The Berlin-Bochum Memory Alliance is a transregional collaborative initiative of four DFG-funded consortia. Its goal is to create synergies across consortia, by providing a platform for members to share ongoing memory research and to network. To this end, the alliance hosts joint events and supports self-organized initiatives by its early-career researchers.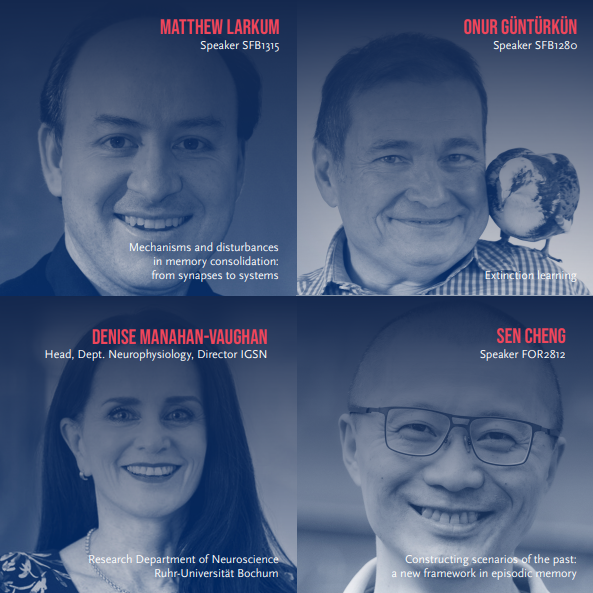 Third Berlin-Bochum Memory Symposium
The Berlin-Bochum memory alliance looks forward to sharing research highlights, discussing topics of mutual interest, and visiting a virtual poster gallery with you at the upcoming symposium.
Date: 
20th & 21th March 2023
Invited Speaker: Lisa Genzel, Radboud University, Nijmegen
The Speakers of the Alliance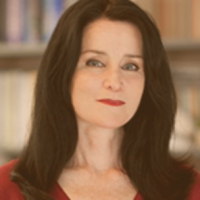 CRC 874 – Integration and Representation of Sensory Processes
Speaker: Denise Manahan-Vaughan
Find out more @ sfb874.rub.de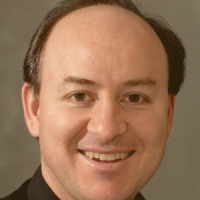 CRC 1315 – Mechanisms and Disturbances in Memory Consolidation: From Synapses to Systems
Speaker: Matthew Larkum
Find out more @ sfb1315.de 
FOR 2812 – Constructing Scenarios of the Past: A New Framework in Episodic Memory
Speaker: Sen Cheng
Find out more @ for2812.rub.de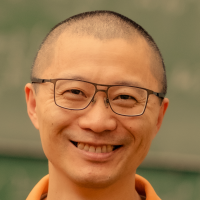 Global - Strengthen memory research
in Germany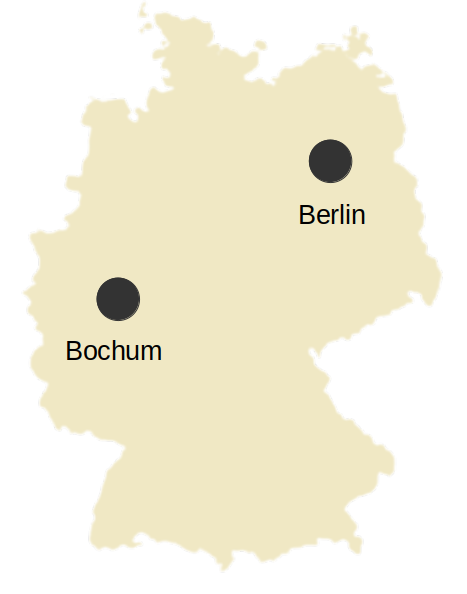 Specific - Discover new opportunities to collaborate and create joint projects


Specific - Support early career researchers and building a young scientist network


Specific - Share results and engaging in outreach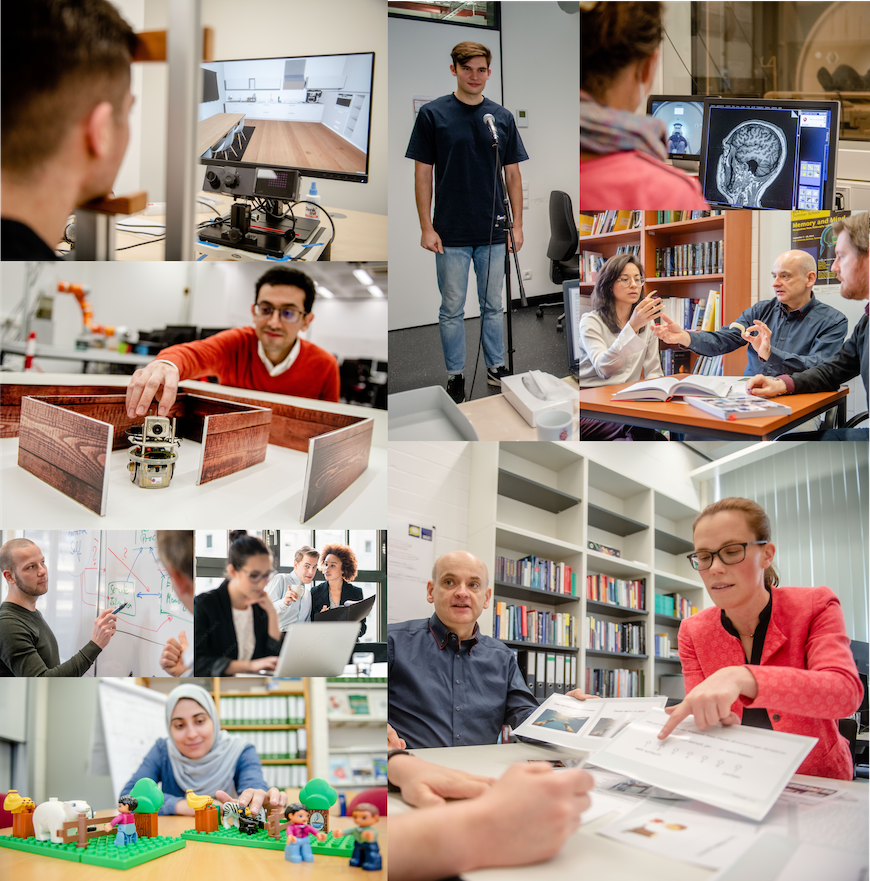 How our minds re-create the past – FOR 2812 is renewed until June 2025
Our past is not just recalled from our memory, but instead it is partially constructed in the process of remembering. This is the theory of the Research Unit 2812 "Scenario Construction: A new framework in episodic memory". The German Research Council (Deutschen Forschungsgemeinschaft, DFG) has extended funding for the unit, led by Prof. Dr Sen Cheng of the Institute of Neural Computation at the Ruhr University Bochum, for the next three years.
To learn more about our research visit https://for2812.rub.de
Press Links:
Ruhr University Bochum press release (German/English) 01.07.2022
Deutsche Forchungsgemeinschaft Pressemitteilung Nr.19 Juni 2022
CRC1315 is renewed for a second funding period by the DFG, 2022/2-2026/1
Humboldt-Universität zu Berlin is celebrating approved funding for the CRC1315's second round.  A total of 27 principal investigators in 15 scientific projects, 3 service projects are supported administratively by a central project. Two new scientific projects have been added to enhance successful themes and 8 new PIs will join the second round, after having either newly arrived in Berlin or having become aligned with goals of the CRC. Two service projects will continue to coordinate common methodological approaches such as optogenetics, virus synthesis, and behavioral testing across groups, and a robust new infrastructure project will develop strategies for reproducible research and integrate the consortium into ongoing data management initiatives around German and Europe. The aim of the CRC1315's second funding round is to tackle newly identified research themes brought into focus during the first round including the nature of memory-related activity generated in the hippocampus, the transfer of information from the medial temporal lobe to neocortex, the refinement of ensembles of cells for encoding memories (engrams), the role of sleep, memory loops, and how brain stimulation influences memory.  CRC1315/2 will increase the range of investigations to include both molecular events related to memory and large-scale dynamics of memory consolidation.
Press Links:
NeuroCure Cluster of Excellence press release 08.06.2022
Berlin Senatsverwaltung für Wissenschaft, Gesundheit, Pflege und Gleichstellung, Pressemitteilung  27.05.2022
Deutsche Forschungsgemeinschaft Pressemitteilung Nr. 16 /27. Mai 2022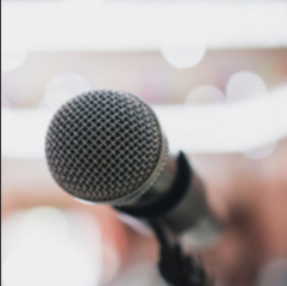 #Girl'sdaydigital2022
The second annual Girl's day coordinated by the SFB 1315 in collaboration with the memory alliance took place digitally on Thursday April 28th 2022. Five scientists – at all career stages –spoke about their path to research on synapses and neural circuits, philosophy of language and cognition, modeling of episodic memory, and clinical studies of cognitive processes. Alliance scientists, including a principal investigator, a postdoc, and several graduate students, shared their career path to various areas of memory research.
Feedback from participants:
Girl's day 2022 was a great experience, and held open many opportunities. Amazing scientists told us about their career, about problems, and memory research. We were also able to interact and ask questions, which I really liked. Furthermore the scientists all had a different message for us to take with us, which changed my perspective on neuroscience and made me more comfortable in my plans working in this field and doing brain research.Thank you so much for this delightful experience, Toya Kubina.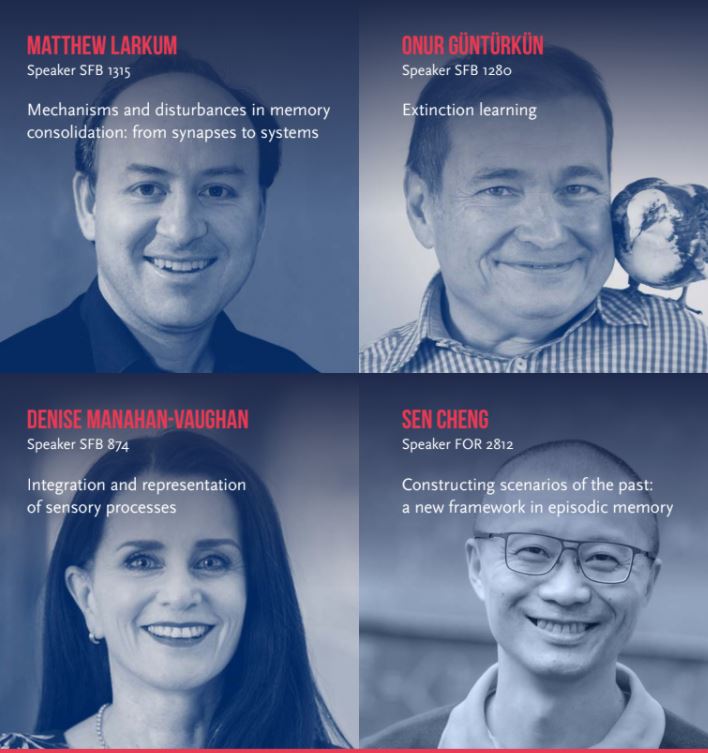 Second Berlin-Bochum Memory Symposium
The Berlin-Bochum memory alliance looks forward to sharing research highlights, discussing topics of mutual interest, and visiting a virtual poster gallery with you at the upcoming symposium.
Date: 

10th & 11th March 2022, 9:00 – 18:00
Invited Speaker:

Kate Jeffery

, UCL, London